Pumpkin Cheesecake
It is the way of making of Pumpkin Cheesecake.Useing the food processor,stirred ingredients until smooth. Pour cake batter in the Round Cake Pan. Bake it in an oven. This is easy and delicious.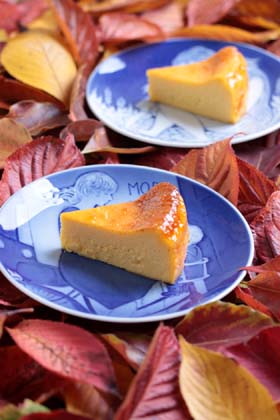 INGREDIENTS

(16 cm Round Cake Pan)

squash

100 g (3.5 oz)

cream cheese

200 g (7 oz)

sugar

60 g (2.1 oz)

heavy cream

200 cc (6.8 fl oz)

weak flour (cake flour)

20 g (0.7 oz)

egg

1

rum

dash

apricot jam

adjust to suit your needs
Recipe

Remove the seeds with the spoon. Cut the squash into chunks. Peel them. Put them in a heat-resistant bowl.


It will wrap in heat bowl.It should be heated for about 4 minutes in the microwave oven. It should keep not remove the wrap.


The coating a thin some butter in the round cake pan and Keep dusted with some flour.


Put eggs, sugar, cream cheese, cream, pumpkin, flour, rum in a food processor.


And stirred until smooth.


pour cake batter in the Round Cake Pan.


In an oven warmed to 170℃ and bake about 45 minutes.


So that it does not catch on the frame, To be fit the cake in the frame using the palette knife or the like.


Once cooled, the Round Cake Pan is removed.


Put the apricot jam and water in a pot. It melts over the fire.


Paint the apricot jam cake surface.


Carve the pumpkin cheese cake and put in a dish.
prepTime
cookTime
totalTime
calories

1/6 per cut

:

372 kcal

The main cookware
16 cm Round Cake Pan, food processor
author

Yukihiro Morita
Details of a calorie of Pumpkin Cheesecake(For one serving)
| Food name | Gram(g) | kcal |
| --- | --- | --- |
| squash | 16.6 | 15 |
| cream cheese | 33.3 | 115 |
| sugar | 10 | 39 |
| heavy cream | 33 | 143 |
| weak flour | 3.3 | 12 |
| egg | 9 | 14 |
| rum | 1 | 3 |
| apricot jam | 15 | 31 |
| Total | 121.2 | 372 |