Spaghetti alla Carbonara
Saute bacon and mix it with source.Add boiled pasta. It is how to make easy and delicious carbonara.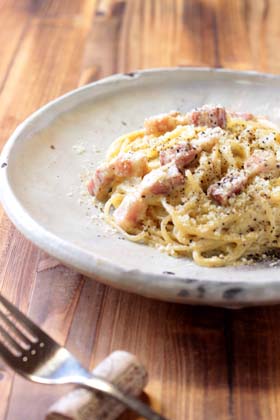 INGREDIENTS

(For one serving)

spaghetti

80 g (2.8 oz)

bacon

30 g (1.05 oz)

white wine

20 cc (0.68 fl oz)

egg yolk

1

heavy cream

80 cc (2.72 fl oz)

parmesan cheese

adjust to suit your needs

black pepper

to taste

olive oil

adjust to suit your needs

salt

to taste
Recipe

Bacon cut into wooden clappers



Add egg yolk, cream,Parmesan cheese and black pepper in a bowl.



Stir sauce ingredients with a whisk.


To boil water,Add salt.Boil the spaghetti.


Put the olive oil in a frying pan,Saute bacon on low heat.


Colored lightly burnt bacon,With kitchen paper to absorb the oil. Pour white wine,Boil down to about 1/4. Turn off the heat,Adding a source. Lightly warm fire, turn off the heat.



If spaghetti boils and goes up Put into the frying pan of sauce. It warms by low heat and is the concentration of sauce.


Serve it to a dish,Parmesan cheese, Black pepper is covered.
prepTime
cookTime
totalTime
calories

For one serving

:

883 kcal

The main cookware
Pan,Frying pan
author

Yukihiro Morita
Details of a calorie of Spaghetti alla Carbonara(For one serving)
| Food name | Gram(g) | kcal |
| --- | --- | --- |
| spaghetti | 70 | 265 |
| bacon | 30 | 122 |
| egg yolk | 20 | 77 |
| heavy cream | 70 | 303 |
| white wine | 20 | 15 |
| parmesan cheese | 10 | 48 |
| black pepper | 2 | 7 |
| olive oil | 5 | 46 |
| salt | 2 | 0 |
| Total | 230 | 883 |
How to make Spaghetti alla Carbonara - movie