Matsumaezuke
It is a delicious Matsumaezuke recipe. Matsumaezuke is dried squid, salted herring roe and kelp marinated with spicy soysauce. Also published details of the calorie.Please try how to make Matsumaezuke.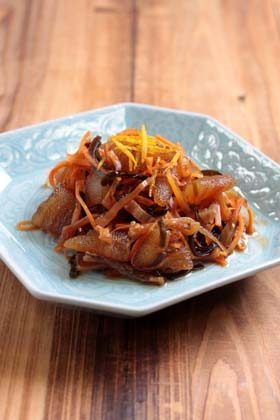 INGREDIENTS

(For four serving)

salted herring roe

12~14

dried squid

1

salt kelp

1 tablespoons

carrot

1/2

seasoning

├

sake

70cc

├

mirin (sweet rice wine)

70cc

└

soy sauce

70cc

yuzu peel

adjust to suit your needs
Recipe

Immerse salted herring roe in salt water for 3 hours to 1 day in order to take salt. (Change salt water every 1 to 2 hours.)


Carefully take a white thin membrane.Wipe off moisture from salted herring roe and cut into bite-sized pieces.


Put the seasoning in the pot and boil it.Keep simmering so that alcohol content will be evaporated and let it cool.


Wipe the dried squid lightly on both sides with a toweled cloth and remove the legs.


Cut the hard part in the middle of the torso.(do not use.)


Shred it with scissors.(So hard dried squid is dipped in sake and then cut.Remaining sake is added when boiling the seasoning.)


Also cut the carrot.


Put dried squid, carrot,salted herring roe and kelp in the bowl, add the cooled seasoning and mix.


Save in the refrigerator and sometimes stir. It is 2-3 days after to eat. When you get it, add a chopped shelter of yuzu peel.
prepTime
cookTime
totalTime
calories

For one serving

:

241 kcal

The main cookware
Pan, Vat
author

Yukihiro Morita
Details of a calorie of Matsumaezuke(For one serving)
| Food name | Gram(g) | Calorie(kcal) |
| --- | --- | --- |
| salted herring roe | 90 | 80 |
| dried squid | 25 | 84 |
| salt kelp | 7 | 8 |
| carrot | 25 | 5 |
| sake | 15 | 16 |
| mirin (sweet rice wine) | 15 | 36 |
| soy sauce | 15 | 11 |
| yuzu peel | 1.5 | 1 |
| Total | 193.5 | 241 |