Kabocha Squash Soup
This is how to make a delicious Kabocha Squash Soup. Crush the boiled Kabocha Squash(pumpkin) with a mixer. And in addition to milk and cream, to make it stretch.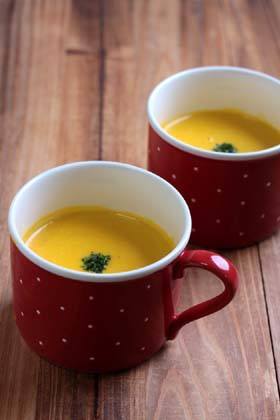 INGREDIENTS

(For two servings)

squash

150 g (5.25 oz)

onion

1/4

butter

15 g (0.525 oz)

water

180 cc (6.12 fl oz)

consomme soup stock (powder or cube)

1/2 teaspoons

bay leaf

1 leaf

milk

180 cc (6.12 fl oz)

heavy cream

50 cc (1.7 fl oz)

salt

pinch

parsley

adjust to suit your needs
Recipe

Cut Squash into bite-sized pieces.


It peels down from the middle.In addition, peel the remaining skin is turned upside down.


Slice them.


It leaves the onions into thin slices.


Chop it into fine pieces.


Dissolve the butter in a pan, and cook until transparent onions.


And fry lightly with the addition of squash.


Put the water, consomme soup stock, and bay leaf. Cook over low heat while scooping accession until the squash is soft.


Take out the bay leaf.Crush the squash in a mixer to take the rough heat.


To return to the pot when it becomes a paste, Extend by the addition of milk.


Mix adding fresh cream. And adjust the flavor with salt, if necessary.


Put the soup in a cup, sprinkle the parsley.
prepTime
cookTime
totalTime
calories

For one serving

:

300 kcal

The main cookware
Pan
author

Yukihiro Morita
Details of a calorie of Kabocha Squash Soup(For one serving)
| Food name | Gram(g) | kcal |
| --- | --- | --- |
| squash | 75 | 68 |
| onion | 20 | 7 |
| butter | 7 | 53 |
| consomme soup stock (powder or cube) | 1.5 | 4 |
| milk | 90 | 60 |
| heavy cream | 25 | 108 |
| parsley | 1 | 0 |
| Total | 219.5 | 300 |